Bricola catchment: repair of La Maya channel
During the night of 3 October 2020, very bad weather with heavy rainfall caused damage to the La Maya channel, which holds the intake pipes for the Bricola secondary intakes in the Dent Blanche sector. Urgent work was therefore needed before the winter.
During the storm, there was a landslip some ten metres long beneath the channel, which did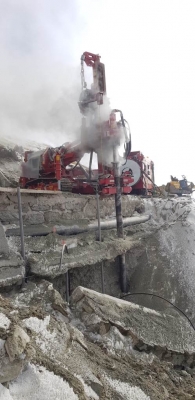 not cause a break in the HDPE DN250 pipe held within it but inevitably meant that the works would be at risk when the snow next melted in Spring 2021.
Grande Dixence SA carried out urgent works before winter with the help of HYDRO Exploitation's Civil Engineering Unit. The scope of their work was:
Assessment of the damage and development of the design for making safe.
Direction of the works, award of contract, technical and financial monitoring.
Delivery of a crawler drill to the site, at an altitude of 2,500 metres, in November, using a Super Puma helicopter.
Construction of seven micropiles placed at 1.20 metre intervals, composed of SwissGewi rods, 40 mm in diameter, with a total length of 9.00 m, sealed in 3.00 m of solid rock and 3.50 m of moraine.
Reconstruction of the channel and its underpinning in black concrete to minimise the visual impact on the right flank of the Ferpècle valley.
These works were completed to the satisfaction of Grande Dixence SA. They will ensure complete safety when the snow melts.